⭐⭐⭐⭐
13th July 2021
Review by Shaun Tossell
Linus Karp returns with his brand new one-man show – How To Live A Jellicle Life: Life Lessons From The 2019 Hit Movie Musical 'Cats'.
This comes after the success of his previous critically acclaimed show – Awkward Conversations With Animals I've F*cked, which previously toured the UK.
Described as 'a one man comedic parody that celebrates one of the biggest cinematic flops of recent years'. This new show, written and performed by Karp, lovingly takes us on a jellicle journey to explain the life lessons we can take away from the dumpster fire, that is the 2009 film adaptation of Andrew Lloyd Webber's beloved musical Cats.
Karp is aided in his one-man show with hilarious voice over work by Sam Carlyle. This is due to recent health issues Karp has been experiencing with his voice, meaning it would be too painful for him to talk for the whole show. It's a inventive solution that enhances the show, with the playful back and forth it allows.
The show has to be the most entertaining PowerPoint presentation I'll probably ever sit through. It's punctuated throughout with camp musical cues, jellicle dance interludes, audience interactions and even special appearances by Dame Judi Dench (in video form). A warning, there is an instance of full-frontal nudity to offend/excite you.
Karp's witty show is tailor-made for musical theatre fans looking for a wonderful hour of stagey silliness.
I've no doubt How To Live A Jellicle Life: Life Lessons From The 2019 Hit Movie Musical 'Cats' is the most jellicle one-man show I'll ever see.
Book now…because jellicles can and jellicles do! ! !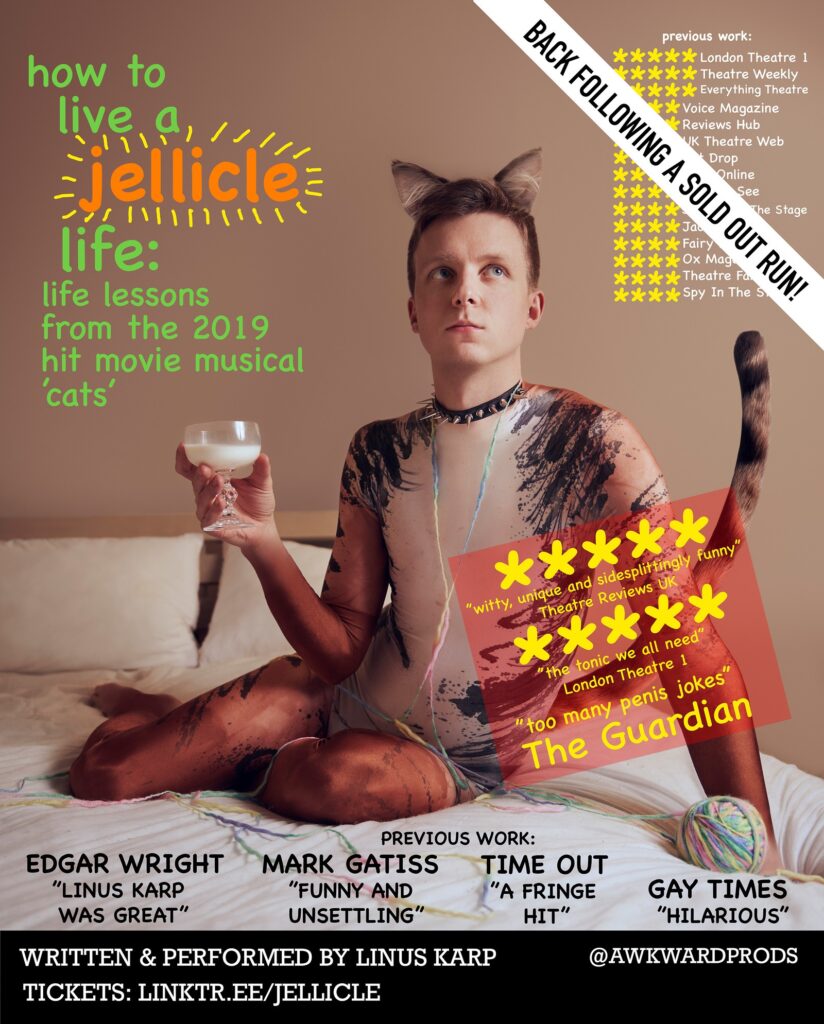 Tickets & more info – https://linktr.ee/jellicle
Photo credit – Dave Bird